Three years ago I decided to start my weight loss journey. I was super excited! I couldn't wait to finally drop the pounds and feel comfortable in my own skin again. At first, everything was going great. I stuck to my diet and exercised every day.
But after two weeks of going strong, ALL of my bad habits came rushing back. I ruined weeks hard work, in just a couple days. I felt defeated. I remember asking myself, why is losing weight so dang difficult??
That's when it hit me.. I finally discovered the true key to weight loss is motivation. You have to motivate yourself every single day if you want a fighting chance at shredding body fat. Don't panic. You will NOT have this problem because I am about to let you in on a few secrets that will keep you out of the death trap permanently.
You ready? Here we go..
#1 Write down your "SMART" goals.
It's amazing how many people skip the most important step. "I want to lose 20lbs" is simply NOT good enough. The more time you spend on setting your goal, the more likely you are to succeed. If you aren't sure what a smart goal is click use the image below as a reference, or click the link below and follow the step-by-step guide to create your smart goal right now!
Click here to create your SMART goal now.
#2 Manifestation.
The first thing I do every morning is look into the mirror and state my goals 10 times in a row. I know it sounds cheesy, but IT WORKS. By reminding myself every single morning before I start the day, I am forcing my brain to subconsciously remember my goals. That way my mind will work with me (rather than work against me) to fight off those cravings for good!
#3 Track everything.
Most weight loss specialists will tell you to do this, but how? You don't need to go out and buy an expensive watch to track your every move. Instead, consider starting a food journal!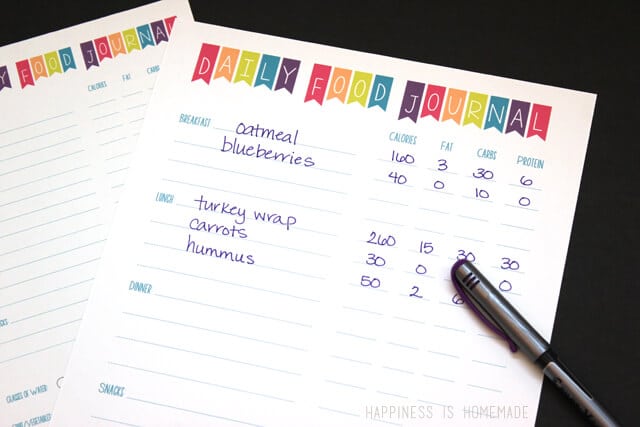 Food journals are free, easy, and incredibly effective. I would never be where I am today without tracking my every meal/snack throughout my journey.
Here is the one I use => Printable Food & Fitness Journal – try it out it's completely free.
Those are just a few of the many ways to keep yourself motivated no matter what your goals are. All I can do is show you the door, it's up to you to walk through it! Don't wait! All three of these tips can be easily implemented starting today. I challenge you to take action NOW – you won't believe the difference.